BSY Noni Black Hair Magic Shampoo
Rich Noni Fruit Extracts | No Ammonia | Stain Free | Hair Color Shampoo | 5 Minutes
A Super Fruit in a Hair Dye
100% pure Noni fruit extracts
Noni Fruit or "Morinda Citrafolia" also known as the "miracle fruit" has been used extensively for it's Anti-Inflammatory properties and for it's rich source of Anti-oxidants. The Noni Fruit is rich in Fatty acids that which have penetrating properties to strengthen hair follicles from the roots. The Noni Fruit is also a very strong staining agent and has been used in beauty care since ancient times.
BSY Noni Black Hair Color Shampoo uses Noni Fruit extracts from the highly fertile Tahitian Islands. The Noni Fruits which grows in the Tahitian Islands are claimed to be most potent.
Complete Gray Hair Coverage Shampoo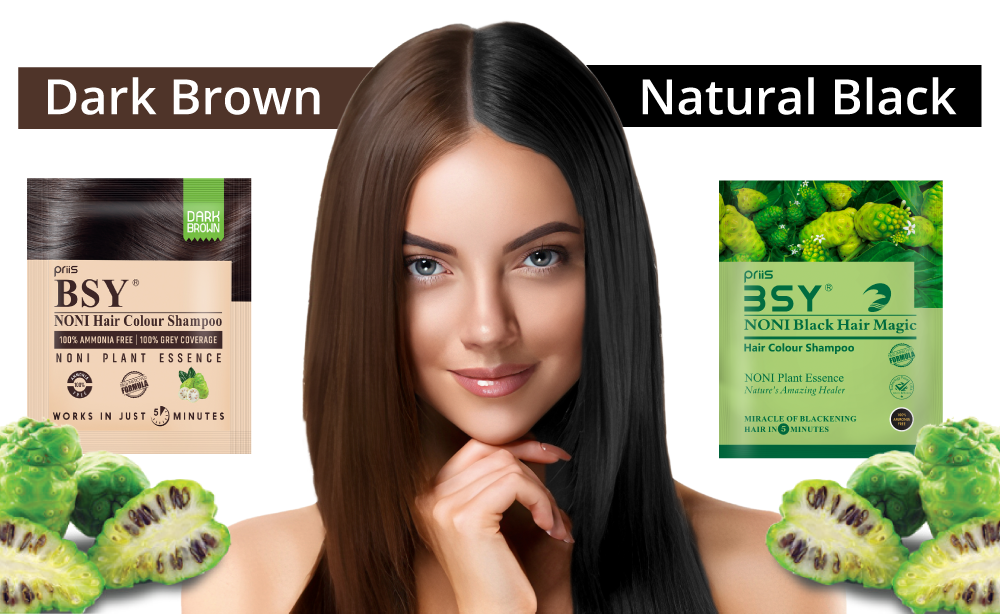 World's First Noni Fruit or "Morinda Citrafolia" extracts infused  shampoo. BSY Noni Black Hair Magic is the best hair color dye to provide complete gray hair coverage in just 5 – Minutes
BSY's Black Hair Magic is our best selling black hair color shampoo preferred by many. BSY Black Hair magic is mostly preferred due to its quality, longevity, unique formula and highly safe to use.